ROCCHETTA MATTEI CASTLE & OLD VILLAGES Bologna Art Hotels
Disfruta de las mejores actividades en Bologna Art Hotels,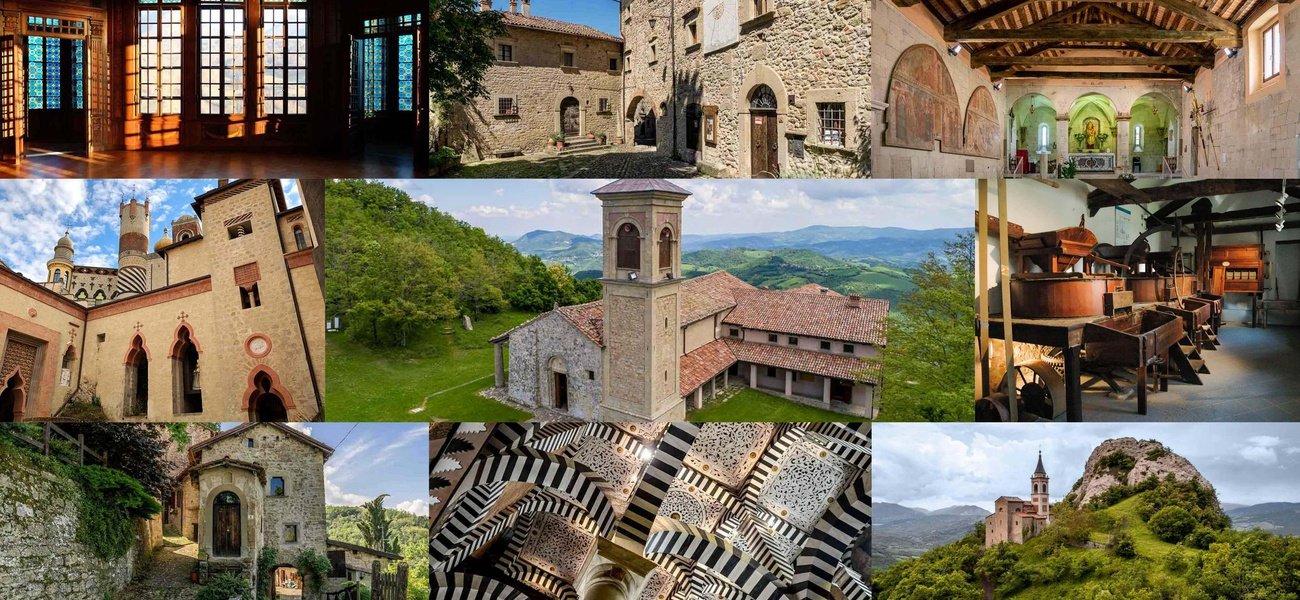 ROCCHETTA MATTEI CASTLE & OLD VILLAGES
An itinerary to discover some of the historical and artistic excellences of the Bolognese Apennines. A walk inside the Borgo La Scola, where time seems to have stopped; a visit to the Sanctuary of Montovolo, where religion and history meet; the spectacular scenery of the Sasso di Vigo; the amazing beauty of Rocchetta Mattei, the mysterious castle with an exotic character. A tour to be experienced, accompanied by an expert guide, without giving up an excellent lunch with local products.

Borgo La Scola : here we will walk inside a sixth century village perched to a complex of tower-houses: a place where time seems to have stopped. A guided tour with the cultural association Sculca will allow us to discover all the curiosities.
Sanctuary of Montovolo : we continue to climb up to the top of Montovolo, where stands the homonymous shrine dating back to the thirteenth century, the main devotional center of the city of Bologna until the edifation of the Sanctuary of the Blessed Virgin of San Luca. Not far away is the oratory of Santa Caterina, near which we can enjoy a breathtaking view of the valley.
Sasso di Vigo : left behind the Sanctuary, we will head towards the Sasso di Vigo, once a feudal village, remembered today by the Romanesque church of Santo Stefano. Very striking is the perspective that is created between the church and the fortress as you approach it, ideal for taking a great picture.
Lunch at the Mill: filled the artistic-historical hunger, it's time to give us a break. We will have lunch inside an old mill with local specialties: tigelle, cold cuts and mountain cheeses. To promote digestion, we can take part in a guided tour
Rocchetta Mattei : we will end the tour by visiting this magnificent castle, the pearl of the Bolognese Apennines. Built in the second half of the nineteenth century, it owes its name to Count Cesare Mattei, the father of electromyopathy. Here we will lose ourselves among richly decorated rooms and towers that make heaven, between history, anecdotes and mysteries never revealed

Departure from the center of Bologna
Meeting at Enjoy Appennino
Via Indipendenza 71 m / n
Program
Departure: 9:00 am
Lunch: 13.30
Return: 18.00
Included
Free transportation to / from Bologna;
Professional escort;
Visit Borgo La Scola;
Visit the Sanctuary of Montovolo;
Complete lunch with specialties
local and drinks;
Visit mill;
Visit Rocchetta Mattei;
Insurance resp. civil and taxes.
Calendar
Tour available on Saturdays or Sunday, on the proposed days on our website; Departures in other programmable dates on request.
Languages
Italian
English
Other languages on request


Bologna Art Hotels services:
- Accommodation
- Rich Buffet Breakfast
- Internet navigation (wireless connection in all rooms)
- Free use of hotel bycicles

On request, the following services can be provided:
- Round transport from and to the Airport G. Marconi of Bologna
- Bus city tour with City Red Bus
- Special city guided tours (Bologna's Towers, shopping, Gourmet tour, etc.)

Information and bookings:
- Phone +39 051 7457338 – E-mail info@arthotels.it
- Click on BOOK NOW and select the Hotel and the room You prefer.
-How to reach us – City Map

We are waiting for you in Bologna! Kind regards, Piter.

Promotion subjected to availability of the services offered.