THE "DOZZA EXPERIENCE" Bologna Art Hotels
Disfruta de las mejores actividades en Bologna Art Hotels,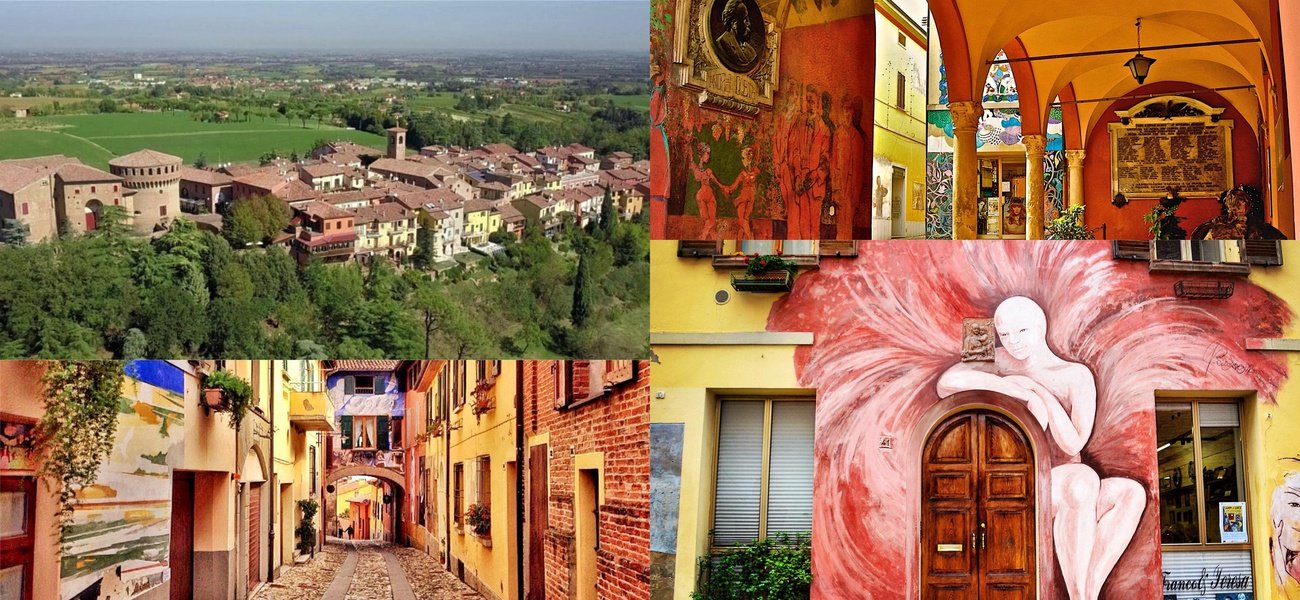 THE "DOZZA EXPERIENCE"
Bologna Art Hotels offer the possibility of participating to the guided tour of Dozza, a charming medieval borough on gentle hills (200 mt on the sea level) near Bologna and according to the review Forbes "one of 3 unforgettable small towns in Italy". The "Dozza Experience" is a perfect one day tour that combines art, history, unforgettable flavors and landscapes and it is also based on the Art Direction by one of the most experienced and competent professional art historians of Bologna, Prof. Max Martelli.

Program and options
This tour is designed for maximum 19 people and we can provide several types of high standard vehicles, depending on the number of passengers:

- The 19 people tour, leaves at 8.30 am, on Tuesday and Thursday. We have one pickup spot at the bus stop on Via Farini 22 or we'll be glad to set up an alternative solution.

- The small groups tour (1-7 people) can be more flexible and customized, on other days, with a different timetable and personalized meeting points according to your needs.

- For bigger groups (20-50 people).
Our professional guides, each one with an academic background, will accompany you during the tour to lead
you throughout the Dozza experience and to give all the explanations and any kind of information about art,
history, territory, places, traditions.

9.30 am: 1st stop at the awarded "Cantina Assirelli" wine and oil farm (Dozza). Guided tour of the farm, including the production area, where you can follow the whole process from the grapes to the bottle and from the olive trees to the extraordinary traditional Dozza olive oil. At the end of it we offer the "Traditional Romagna Breakfast", consisting in: various cured meats produced by Cantina Assirell, 2 types of local cheese, tastings of Assirelli oil production, accompanied by local bread, (bruschetta),4 types of autochthonous wines with bottles selfmanaged by customers, tasting of Albana passito wine with various sweets. All these products and many others are available at the Cantina Assirelli Shop.

11.30 am: "strolling the medieval borough of Dozza"…is one of the most fascinating Italian experiences, a characteristic atmosphere with open-air artworks everywhere, made by internationally famous artists along the medieval alleys. Inside the XIV century castle, seat of the Emilia-Romagna Regional Wine Shop, you can taste and buy any kind of Italian wine and all the typical specialties of the Dozza area. The ticket to the Medieval Castle and Museum is included in the tour.

1.30 pm: Lunch at the characteristic "Osteria del Borgo" (Dozza), one of the Emilia Romagna most famous winebars - restaurants, where genuine food meets art, music and history.
The "Traditional Menu" proposal is made of: FIRST COURSE "Tagliatelle dell'Arzdora al ragù" (fresh handmade noodles with bolognese sauce), SECOND COURSE "Coppa Brasata al Sangiovese" (Beef with Sangiovese and green peppercorns, with a side of potatoes au gratin and grilled vegetables), DESSERT "Pinza bolognese"(typical Bolognese cake with conserves).
The "Vegetarian Menu" offers: FIRST COURSE the osteria's "mini gnocchi" with beetroot juice and gorgonzola cheese and "strozzapreti della badessa", typical fresh pasta with porcini mushrooms, SECOND COURSE "tomino" (grilled cheese) with a side dish of roasted potatoes, DESSERT home made chocolate cake. Both Menu include local wines like Pignoletto frizzante (local white sparking wine), Sangiovese "superior" (typical dry or semi-sweet red wine), water, coffee, liquor.
For any kind of particular dietary needs (vegetarian, vegan, gluten free, allergies or intolerances), please just tell us at the booking time, we'll be happy to organize an alternative menu specifically for you.

Bologna Art Hotels services:
- Accommodation
- Rich Buffet Breakfast
- Internet navigation (wireless connection in all rooms)
- Free use of hotel bycicles

On request, the following services can be provided:
- Round transport from and to the Airport G. Marconi of Bologna
- Bus city tour with City Red Bus
- Special city guided tours (Bologna's Towers, shopping, Gourmet tour, etc.)

Information and bookings:
- Phone +39 051 7457338 – E-mail info@arthotels.it
- Click on BOOK NOW and select the Hotel and the room You prefer.
-How to reach us – City Map

We are waiting for you in Bologna! Kind regards, Piter.

Promotion subjected to availability of the services offered.