FOOD & WINE EXPERIENCE Bologna Art Hotels
Disfruta de las mejores actividades en Bologna Art Hotels,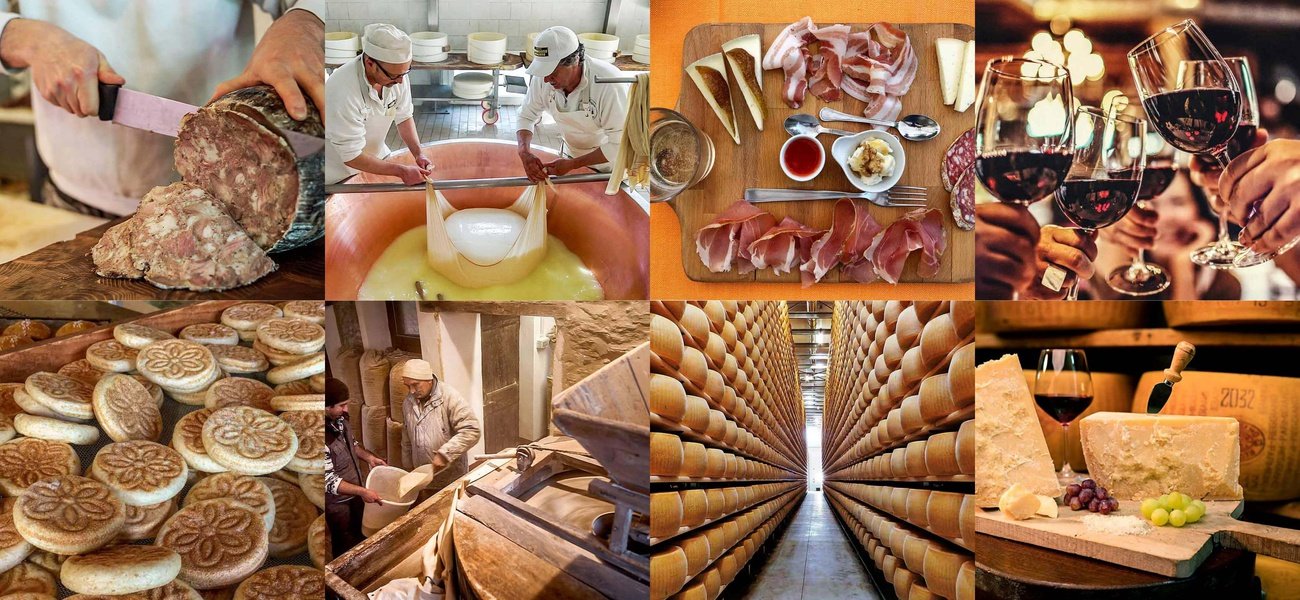 FOOD & WINE EXPERIENCE
A tasting tour to discover authentic flavors: you will see closely how Parmigiano Reggiano is born in a traditional cheese factory; you will watch the processing and maturing of the typical Emilian sausages in an artisan salumificio. You will assist the milling of the flour in an ancient water mill; you will have lunch with the excellences of the territory and you will discover the recipes of the mountain kitchen; end the day with a wine tasting with many nuances. A comfortable minivan, an expert guide and taste buds ready to get excited.

Caseificio: we leave early but there is a good reason: the cheese maker awaits us. He wants to show us how mountain Parmigiano Reggiano is made. We will assist in the processing that allows you to get the shapes and visit the various areas of the dairy, always accompanied by an expert who will describe them to us. We will then taste Parmigiano Reggiano in different seasonings and combinations, accompanied by local salami and local wine.
Salumificio: with the palate satisfied by the specialties just tasted, we arrive at our second stage. An expert butcher will welcome us in a traditional sausage factory in the mountains of the Apennines, where they produce the classic salami for which this region of Italy is famous. We will then be able to see the processing and maturing of hams, salami, sausages, bacon and much more. At the end of the visit, we will not miss the chance to taste them.
Lunch: after having seen so many delicacies born and having made an aperitif with cheese and salami, it is finally time to sit down at the table. In a typical restaurant we can taste the true mountain cuisine, with traditional specialties of these areas. Our guide will show us the traditional dishes and reveal some secrets about the realization of these recipes. Do not miss the excellent local wine to accompany it all.
Mill: the day is still long and full of surprises. An old watermill is waiting for us now, a 17th century block built in river stones, composed of four stone millstones. The water, taken from the stream, is collected in a reservoir and used, by means of turbines, for the movement of the millstones. We will relive the traditions, knowledge and tastes of the farming world: from flours to desserts, we will conclude the visit with a tasting of the miller's bakery products.
Winery: before returning to the city we will stop for an aperitif at a farm, which will propose a series of local wines accompanied by local products. An enologist will tell us how these wines are born from autochthonous wine varieties and with natural vinification techniques.

Departure
from the center of Bologna
Meeting at Enjoy Appennino Via Indipendenza 71 m / n
Program
Departure: 8:00 am
Lunch: 1.00 pm
Return: 18.00
Included
Free transportation to / from Bologna; Professional escort; Guided tour with tasting; Salumifcio visit with tasting; Complete lunch with specialties local and drinks; Visit mill with tasting; Visit cellar with tasting; Civil liability insurance and taxes.
Calendar
Tour available on Saturdays, in the days proposed on ours website; departures on other dates programmable on request.
Languages
Italian
English
Other languages on request


Bologna Art Hotels services:
- Accommodation
- Rich Buffet Breakfast
- Internet navigation (wireless connection in all rooms)
- Free use of hotel bycicles

On request, the following services can be provided:
- Round transport from and to the Airport G. Marconi of Bologna
- Bus city tour with City Red Bus
- Special city guided tours (Bologna's Towers, shopping, Gourmet tour, etc.)

Information and bookings:
- Phone +39 051 7457338 – E-mail info@arthotels.it
- Click on BOOK NOW and select the Hotel and the room You prefer.
-How to reach us – City Map

We are waiting for you in Bologna! Kind regards, Piter.

Promotion subjected to availability of the services offered.