E-BIKE TOUR CORNO ALLE SCALE Bologna Art Hotels
Disfruta de las mejores actividades en Bologna Art Hotels,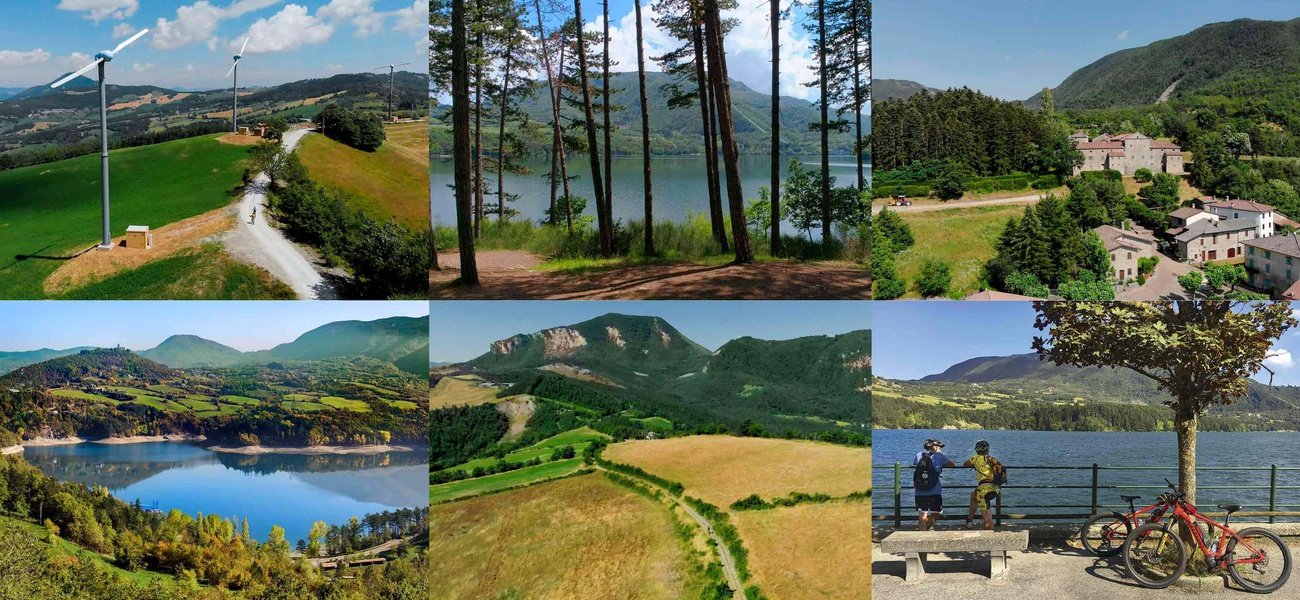 E-BIKE TOUR CORNO ALLE SCALE
A trip an electric bike through history and nature. This daily travel itinerary will let you dive in the Bologna Appennines. You will admire the Suviana and Brasimone lakes, enjoy a traditional lunch and get in the artistic and historic "La Scola" village. The last surprise on the road it will be the sight of the amazing Rocchetta Matteir castle.

A short train ride will take us to take our e-bikes. Just the right time to wear a helmet and technical wear, to adjust the e-bikes and to receive the indications on the operation, then we will be ready to go. We start immediately uphill, because we do not want to waste time! The electric motor will greatly help our legs, more or less trained. We will climb to reach Grizzana Morandi, a place that takes its name from the famous painter Giorgio Morandi, then Monteacuto Girl and still up the Vigo ridge, followed by the Passo dello Zanchetto. From here we will begin the descent for the triumphal and panoramic arrival on Lago Brasimone. After a moment of relaxation by the lake, we leave for a short ride to the wood of the Poranceto, characterized by chestnut trees and other old trees. Here we can visit the Museum of the Woods, dedicated to the flora and fauna of these places, in which there is also the reconstruction of a drier and a charcoal, once used for the processing of chestnuts. Then we will cross some small villages of the Apennines, between narrow hairpin bends and breathtaking views, to get to Lake Suviana. We will follow the road on the old dam, which dominates the valley with its 90 meters of height, until we reach a small inn where we can enjoy the authentic mountain cuisine. The belly is full but fortunately we start downhill: we will skirt the Torrente Limentra fno to find ourselves at the foot of the majestic Rocchetta Mattei, before leaving our e-bikes and returning to Bologna.

Departure
from the center of Bologna
Meeting at Enjoy Appennino Via Indipendenza 71 m / n
Program
Departure: 8.30 am
Lunch: 13.30
Return: 18:30
Included
Train to / from Bologna - Vergato; Professional mountain bike guide; MTB front e-bike rental; Complete lunch with drinks; Mandatory helmet; Bottom on request; Child seat on request; Insurance civil responsibility and taxes.
Calendar
Tour available on Saturdays or Sunday, on the proposed days on our website;
Departures in other programmable dates on request.
Languages
Italian
English
Other languages on request


Bologna Art Hotels services:
- Accommodation
- Rich Buffet Breakfast
- Internet navigation (wireless connection in all rooms)
- Free use of hotel bycicles

On request, the following services can be provided:
- Round transport from and to the Airport G. Marconi of Bologna
- Bus city tour with City Red Bus
- Special city guided tours (Bologna's Towers, shopping, Gourmet tour, etc.)

Information and bookings:
- Phone +39 051 7457338 – E-mail info@arthotels.it
- Click on BOOK NOW and select the Hotel and the room You prefer.
-How to reach us – City Map

We are waiting for you in Bologna! Kind regards, Piter.

Promotion subjected to availability of the services offered.